Late Shri.G.Varadaraj
Founder Chairman – Rajshree Sugars & Chemicals Limited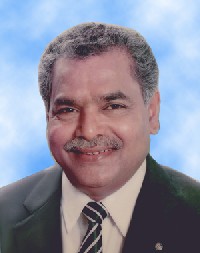 G. VARADARAJ
FOUNDER
(1936 – 1990)
Late Shri G.Varadaraj, popularly known as GV, was a pioneer in education and industry as well as a Parliamentarian.
He supported the growth and development of the PSG group of educational institutions such as the Sarva Jana Higher Secondary School, the PSG college of Arts and Science, the PSG Industrial Institute, the PSG College of Technology and the PSG Medical College. As the Managing Trustee of the PSG group of institutions from 1978 to 1990, he founded the Institute of Medical Sciences and Research in 1985.
Shri G.Varadaraj had also played a commendable role in the Rotary movement. He was largely instrumental in starting the Measles Immunization and Polio Vaccination Programmes in the early 1980s in the Rotary District 320 (now 3201) which comprised many rural areas of Tamilnadu and Kerala.
Shri G.Varadaraj was the founder of Rajshree Sugars and Chemicals Limited (RSCL) in 1987 and setup a sugar factory in a most backward area of the Theni district of Tamilnadu, which paved the way for the economic and social development of the area by providing employment opportunities to the local people.
Shri G.Varadaraj was a distinguished Parliamentarian. As a Member of the Rajya Sabha for six years from 1983, he served on several committees. He was Chairman/President, Vice-President, Director and Member of many foundations and organizations such as Indian Cotton Mills Federation, Southern India Mills Association, Indian Chamber of Commerce and Industry (Coimbatore) and Engineering Export Promotion Council.